By Clive Smith
3 months ago
10 Brilliant Uses For Shipping Containers!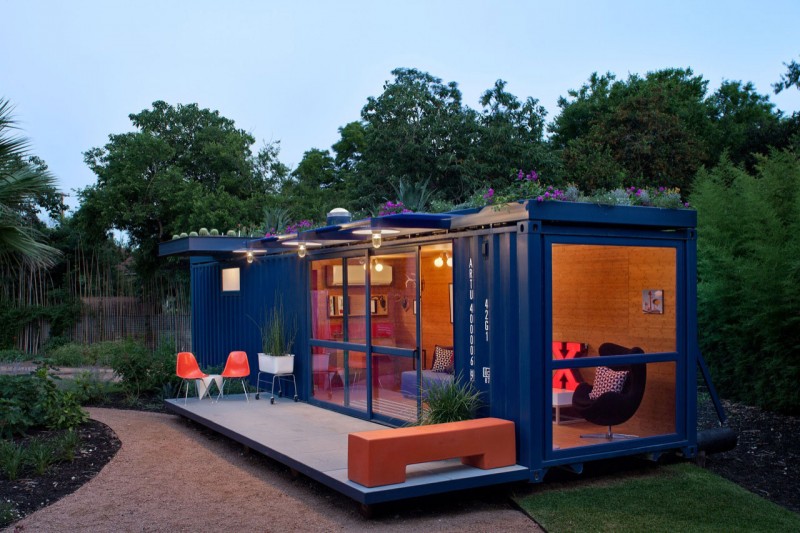 In recent times there have been new buzzwords circulating in the building industry; reduce, reuse, recycle and upcycle. Although on the whole, Australians are still living in the worlds largest houses (on average 214 square metres), a new trend is emerging which is seeing people downsizing their home (and mortgage!) to live a more eco friendly existence in a smaller space. We first heard about shipping container homes a while back when we wrote this post about a home made from 31 shipping containers in Queensland. Although not exactly a small home footprint, it got us to thinking about the many ways we have recently seen shipping containers used - we bet you never expected number nine!
# 1: House
As with the Queensland home mentioned above (which incidentally sold for $1.42 million at the end of 2013), the idea of people using shipping containers to build their family home is growing in popularity. Grand Designs (UK) even featured a home made from four shipping containers recently.
# 2: Pop Up Shop
A perfect solution: the transient fleeting nature of a pop up shop suits the movability and flexibility of a shipping container perfectly. This works really well for pop up shops that follow festivals on their circuits. Lacoste had a pop up shop at the Coachella festival in 2013 - that's a pretty solid endorsement of a good idea!






#3: Hotel
Just like their use in residential homes, using moving containers to construct hotels can be a cost effective and on-trend point of difference. The Hougoumont Hotel in Fremantle, WA is an amazing example of this - a boutique luxury hotel partially constructed by repurposed sea containers. It's funky modern appearance belies the fact it is built from such humble building blocks as shipping containers!
#4: Doctors Clinic
#5: Bar
Austin, Texas boasts an awesome sounding place called The Container Bar! Constructed by seven stacked shipping containers it is no doubt the coolest place for Austin hipsters to hang out and only a matter of time before this idea spreads!
#6: Sauna
Designed by a Canadian firm, the worlds first shipping container sauna is lined with redwood cedar and fueled by a wood burner with built in stove and a rooftop solar panel. Designed to be lockable when not in use - surely every backyard should have one!



#7: Office
Architects in Shanghai have constructed an office building for an organic food producer entirely out of repurposed shipping containers. Used as a tourist attraction to promote visitors to the farm, the building intends to promote "healthy food, responsible lifestyle and environmental harmony". Whether it achieves this is or not, it certainly is an eye catching display of shipping container achitecture.
#8: Cafe
A few weeks back I visited for the first time, a newcomer to the North Fremantle, WA cafe scene. Propeller is a cafe/restaurant with an outdoor bar/serving area set in a converted shipping container. It ticks all the boxes for a funky hip cafe to put on your must-see list: delicious food, awesome location and great service.
#9: Greenhouse
A greenhouse is not the first thing that springs to mind when you think of other uses for shipping containers! One innovative person, saw things differently though. Designed to deal with the limited space and pollution in our city centres, the 'Urban Farm Unit' was created as a sort of 'share garden'. A shipping container with a greenhouse extension on top it is designed to be moved and placed anywhere there is space.




#10: Farm Building / Outbuilding
Plenty of people already use shipping containers (in their unchanged state) for additional storage, particularly on rural properties. With a bit of imagination though, you can create something that can be much more than just a storage box, the possibilities of what you can create with these humble yet endlessly useful boxes are endless!



We hope you have been inspired by all of these brilliant and creative ways to repurpose and reuse shipping containers. If you are moving interstate and require a shipping container for a more conventional use, then contact us today for your free online quote or you can call us on 1300 659 221.


Image References:
Title Image sourced here
Pop up Shop Image sourced here
Doctors Clinic Image sourced here
Sauna Image sourced here
Greenhouse Image sourced here
Farm Building Image sourced here