Cheapest Interstate Container Removals



Move anywhere, stress-free.

We're your moving containers specialist!

Looking for the lowest price for moving within Australia, but want to use reputable interstate removalists?
Rely on Budget Self Pack Containers, your shipping container removals specialist, to make your interstate relocation a success.
Budget Self Pack Containers deliver outstanding service at a great price. We provide everything you will need for your container removals - except the labour and the exorbitant price.







| | |
| --- | --- |
| Why use Budget Self Pack Containers as your interstate removalists? | |

✓ Australian owned and operated family company since 2010

✓ Most competitive prices on container removals routes in Australia

✓ You will be assigned a dedicated BSPC team member for your move

✓ We are a fully insured specialist interstate container removalists company

✓ If needed, your container can be stored Australia-wide

















*****

"Great service and communication! Very flexible about pick up and delivery dates. Container protected my workshop equipment perfectly; do read the notes on securing items, they are spot on. I'd highly recommend them."

Brian - Moved from Brisbane, QLD to Burnie, TAS - January 2022

RESIDENTIAL MOVES - 20-foot High Cube Shipping Container - 38m3 capacity
COMMERCIAL MOVES - 40-foot High Cube Shipping Container - 76m3 capacity


** Occasionally we will use GP (general purpose) containers in place of HC containers **





A cost-effective way to move interstate to and from the following locations
Approximate prices can be found via the location links below. If your location is not listed below, the chances are we can still assist you with your move, simply contact us here
Container Removals Specials and Backloading Discounts

Often we build up an over-supply of containers in one location and conversely a limited supply in another. From time-to-time, we will offer heavily discounted moving prices out of locations where we have too many containers in stock.
The best way to see if your moving location is currently discounted is to give our removals team a call on 1300 659 221 or you can go online for an obligation free moving quote.
We will also update our Backloading Discounts and Specials page as much as possible to show where you can find the cheapest moving prices.



We recently filmed two of our containers being loaded for a customer moving from Perth to Adelaide. Check out the time-lapse video of a 20ft container load here.

Our customer hired local removalists to assist with the loading of their possessions from a storage facility in Malaga, WA into two of our 20-foot shipping containers. We then transported the containers to his new address in Adelaide where he unloaded them.







Commercial Transport & Freight Solutions
Container Transport & Logistics
Here at Budget Self Pack Containers, we have been helping move businesses interstate for more than nine years. Our 20ft moving containers are the perfect way to move your business cheaply and quickly with minimum disruption to the day-to-day running of your business.
For more information on relocating your business, click here.
We are experienced in moving shop fitting materials, plant and workshop equipment and stock/fittings for retail outlets. We also frequently assist teachers relocating due to school transfers both within the public and private sectors.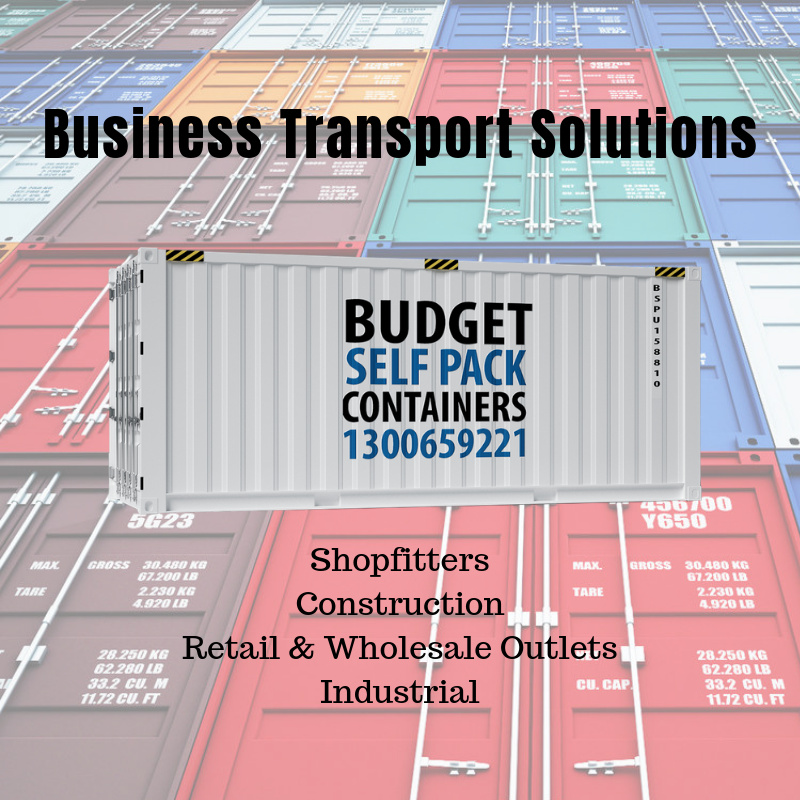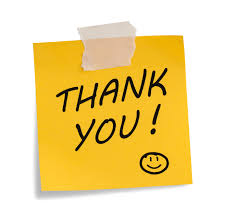 "Thanks to Budget Self Pack Containers for outstanding Customer Service and Service.Container was delivered on time with all the necessary accessories to make the move so much easier.Container was delivered to the exact time and date that was stipulated by them.Friendly efficient affordable service will highly recommend."
Neil - Moved from Perth, WA to Melbourne, VIC - January 2022
Event Transport Solutions
In 2019 Budget Self Pack Containers teamed up with Aussie Gold Cheer & Dance to assist the company in moving their show equipment from state to state on a national tour. Self-pack container removals are a great option for cheap event transport. You have the flexibility of loading and unloading on-site and in your own time. Read more about Aussie Gold Cheers experience here.
Moving interstate | Bunbury / Margaret River
Cheap container removals in Bunbury and Southwest WA!
In addition to our Perth yard located in High Wycombe, we now have a second depot location in Western Australia. Our new yard is located in Bunbury and is a much more convenient hub for all of our Southwest WA customers.
Moving to or from Margaret River, Dunsborough, Busselton, Bridgetown, Donnybrook or anywhere within the Southwestern WA region just got even more affordable. If you choose to load at our depot in Bunbury, you can save even more money.
Shopfitters Moving Interstate
At Budget Self Pack Containers we are experienced in working alongside many Australian shopfitters to move your shopfitting materials between your site locations Australia-wide.
Container removals provide excellent flexibility and are a low-cost option for shop fit-out projects - contact us today to see how we can work together to assist your shopfitters team.
Learn more about our shopfitters transport solutions here.
Moving within the same state
How do DIY moving container removals work?
We deliver a modified 20 or a 40-foot shipping container (sometimes known as a crate or a pod) to your current home address.
You'll have up to 40 days to split between loading and unloading the hire container.
Once loaded we transport the container to your new home address where it is once again placed on the ground for you to unload. (If required, we can also store the container prior to delivery to your new home).
Once unloaded, we remove the container and you settle into your new home!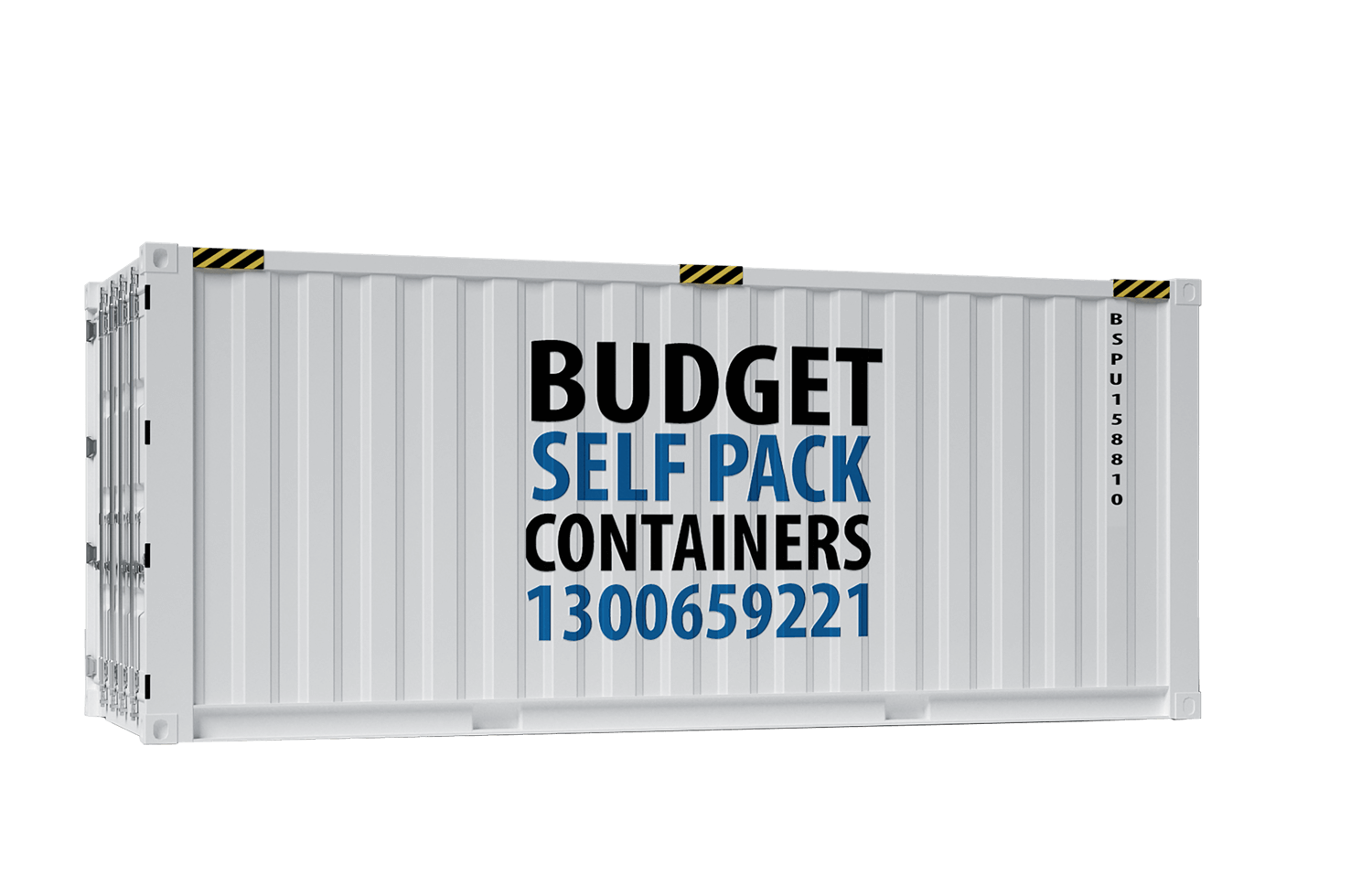 Obtaining a moving quote is quick and easy.
The fastest way to obtain a quote within business hours (9 am to 6.45 pm EST) is to call us on 1300 659 221
Alternatively, you can complete the "obtain a quote" form to the right of this page and we will get back to you - normally within an hour during business hours or first thing on the next business day if you submit your quote request outside of normal business hours.
Don't just take our word for it. See what our customers are saying about us on these sites!