How Do Self Pack Container Removals Work?
Using one of our modified shipping containers to relocate within Australia is an inexpensive and reliable way to self move between most major locations in Australia. We give you all the tools that full service removalists use so that you can move your belongings by yourself at a fraction of the cost. That way you can be sure that only someone who cares goes anywhere near your possessions - you. With self move containers, you lock and unlock the shipping container so you can be sure everything is just where you left it.
Container removals are a flexible method of transporting bulk goods and have revolutionised global commerce. We harness that flexibility to give you any number of options for self moving. Our most common move works as follows:
✓ We deliver a 20 foot removalist spec shipping container to your address.
✓ The container will, in most cases, come with furniture blankets, a trolley, rope and boxes
(see our packaging page for full details for your locations).
✓ We leave the container at your address for as long as you need to pack it.
✓ We then return and transport the container to your destination address.
✓ When you are finished unloading the container, we return and remove the container.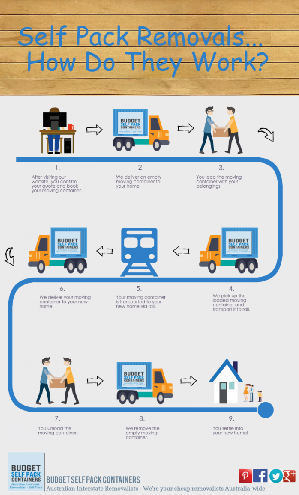 Click to enlarge!
Variations to the container removals system:
You might load / unload the container at one of our depots due to a lack of space for the container at your address.

You might arrange removalist labour to load and / or unload the container.

The truck might wait at your destination address while you do a rapid unload - this can save quite a bit of money when your destination address is a long distance from the nearest rail terminal.

The container may need to be stored prior to delivery at your final address.
Locking your moving container
You will need to provide your own padlock to secure the container. The only person who accesses your container is you and that's the beauty of moving with Budget Self Pack Containers!
For some tips on the best padlock to choose for locking your moving container, read our recent blog post: The best way to lock a shipping container when moving interstate