Shipping Container Removals FAQ
If you are new to the self-pack container removals process, then you probably have a lot of questions about how it works. We get asked the same questions regularly so we have attempted to answer them all in one place.
This list of frequently asked questions is a self-pack shipping container resource and applies specifically to the container removals process.
If you are worried that self-packing your own shipping container sounds complicated and time consuming then read on. The best part of the container removals process is that you have some autonomy over your move, you choose your moving dates, you choose how long you would like to take packing and unpacking and you are able to be in charge of taking the utmost care with your most precious possessions. This provides a greater sense of control and care - no-one cares more about your possessions than you do!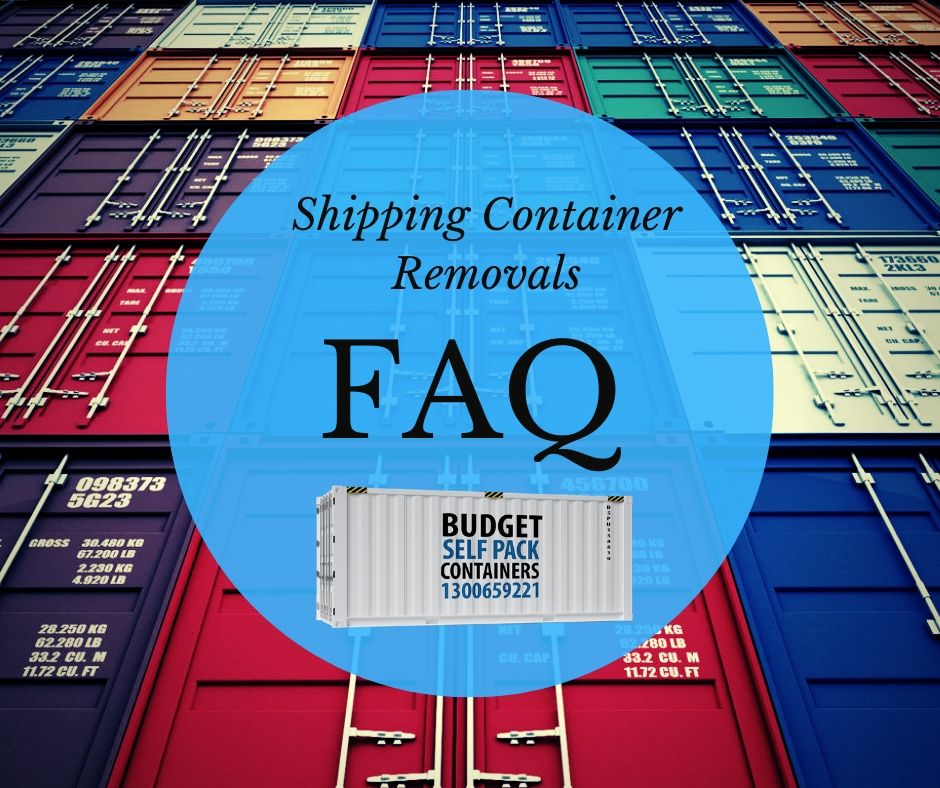 We provide you with the expertise, tools and resources you need to make your interstate move a success.
1. How does it work?
The container removals process is simple. We deliver a shipping container to your home/business address and leave it there for you to pack. When you're ready, we return and pick up the container, transport it interstate to your destination address and deliver it. You unpack it in your own time and then we return and pick up the empty container when you're done. Easy!
2. How much does it cost?
Container removals are one of the most economical ways to move interstate. By taking on the packing and loading portion of the move yourself you can potentially save thousands of dollars based on what a full-service removalist would charge. Our price guide gives a rough estimate of many common moving routes within in Australia but the best way to get an accurate and up-to-date price for your move is to contact us for an obligation free quote.
3. Where do you put the shipping container at my address?
We assess each potential delivery address online on Google maps or other mapping resources. When you book in your interstate move, we will check your address(es) and advise the best solution on where the container can go. We also have options available if there is no space for a shipping container at your address - these include: loading/unloading at one of our depots or a "live unload" where the truck waits onsite. In the event that you have space for a shipping container on the verge or road at your address, you can contact your local council to see if they will issue a permit allowing this. We can provide public liability insurance to assist with this.
4. How long can I have the container at my address?
We provide up to 40 days of container hire to split between loading and unloading your container. You can split this however you like. Need it for longer? No problem, we offer a very reasonable weekly container hire rate if you require the container at your site for longer than 40 days.
5. I need to store my household contents when I'm moving, is this possible?
Commonly, we have customers who need to move out of their current home but don't yet have a new home to move to. Once you have loaded your container we can store it at our depot in your destination city until you are ready to confirm a delivery address. This can be short term storage of a few days or longer-term storage of a few weeks or months. Our storage rates will be provided when you receive a moving quote.
6. Do you provide insurance?
Every shipping container we move is covered by transit insurance (this is included in your quoted price). This covers the container in the unlikely event of theft, fire, explosion, lighting, flood, collision, overturning, jack-knifing and derailment, your goods are covered up to 150k. We also carry public liability insurance.
7. I only have a few things to move, can I share a shipping container?
Unfortunately not. We believe that offering shared containers increases the likelihood of damage occurring to the container contents with multiple people accessing the container. We also prefer to move your container in a timely and efficient manner which is less likely with a shared container. If you have less to move, one option is to consider loading a vehicle into the container. You can avoid paying for car transport if you are relocating by air and the shipping container provides an extra level of protection to your car rather than it travelling on an open car carrying service. Click here to find out more about moving a vehicle in a shipping container.
8. How do I pack a shipping container?
Packing and loading a shipping container can be achieved easily with a little common sense. We have an extensive amount of resources available on our website with tips and trucks for loading your container. A good place to start is this article which gives a great overview for a beginner. There are a few hard and fast rules;
✓ Distribute weight evenly throughout the container
✓ Tie furniture in place using the tie rails on the interior of the container
✓ Wrap furniture in blankets or old linen to prevent 'scuffing marks' occurring
✓ Load the container as tightly as you can to minimise empty pockets of space
✓ Load heavier items at the bottom and lighter items on top
✓ Utilise the full space of the container by loading upwards using the full height space