By Clive Smith
4 months ago
10 Tips for Moving Furniture Interstate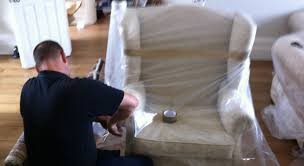 If you've made the decision to be your own DIY cheap removalist and are going to be moving your furniture interstate using a self pack moving container, you have come to the right place. This week we discuss the ins and outs of packing your large items of furniture ready for the big move. By the end of this you will have all the knowledge of a professional interstate furniture removalist - for a fraction of the price they would charge.

Inventory

Go through each room of your house making a list of all the large items of furniture. To get the furniture packed safely and to have a plan of action on how it gets out of your house and into the moving container is essential. On a side-note, keeping an inventory of everything you pack into your shipping container is also a wise idea for insurance purposes - should anything happen during transit.

Preparation

Equipment

Some items you will definitely need are furniture blankets, cling wrap, bubble wrap, packing tape and rope. Some of these come free at selected locations with Budget Self Pack Containers - find out if packing materials are available at your location here.

Disassembly

Take apart large pieces of furniture where possible. If there are many parts, number them as you go with a small sticker on the underside. Take photos of disassembly if you are worried about putting it back together correctly. If possible, tape instruction booklets to the underside, put screws or fixings into a ziplock bag and tape to underside as well.

TV & Electronics

It is always helpful to keep the boxes (and polystyrene inserts) that electronics usually come packaged in when new. If you do not have these then you need to be extra careful with your electronic devices. Before unplugging, colour code the ports and cables for easy reconnection later, buy multi coloured stickers and put each colour on the matching cable and port. It is also helpful to take a photo of the setup before you unplug everything as well.

Secure cables with twist ties and store in ziplock bags, labelling with the device names that the cable connects to.

Remove ink cartridges and CD's/DVD's from units before packing.

Wrap electronic devices in anti static bubble wrap securing with tape and then pack either in manufacturers box or in a carton cushioned with packing bubbles or plenty of cushioning such as blankets or linen.

When packing a large screen television for transit in a moving container, you can purchase a carton especially designed for TV's however from past experience, the best method I can suggest is to wrap your television as suggested above with plenty of padding and then when packing your moving container, store the TV between two upright mattresses and tie it all in securely.

Man Power

Gently Does It

This is where it's an advantage to be in charge of your own interstate move - professional removalists are unlikely to take the same amount of care with your furniture that you will. Cover sharp corners of furniture with a wad of bubble wrap to eliminate scrapes and bumps and pre-plan your exit route from the house with the largest items.

Stack It Smartly

If you have room (and weather permitting), it can be advantageous to move the majority of the large items outside together before beginning to load the moving container. This way you'll have more a visual idea of how you will load it. Generally speaking, it is a good idea to distribute the weight of the load evenly, load on last, what you will need first at the other end, stack heavier items low, lighter items higher. A good way to stack cardboard boxes (if they are well packed, to the top) is to create a 'platform' single layer and then load heavier items on top of this.

Tie In

This is one of the most crucial parts of a successful self pack move. Our specially modified shipping containers come with tie rails at various points around the container. As you pack, tie everything in using rope to tightly secure furniture and boxes to the tie rails. You can take a tour of the interior of a container here

Cold Beverage

Once you shipping container is loaded and ready for pickup, take a break, pat yourself on the back and reward yourself with a nice cold beverage for saving money and completing your self pack move interstate.
For further information on our moving containers and how we can help you move to your new home, please call us on 1300 659 221 or request a free quote online.

__________________________________________________________________________________________________________________________________________
Image References:
Armchair image sourced via Flickr.
Moving furniture image sourced via Flickr.