By Clive Smith
3 months ago
DIY Guide - How To Load A Shipping Container With Household Furniture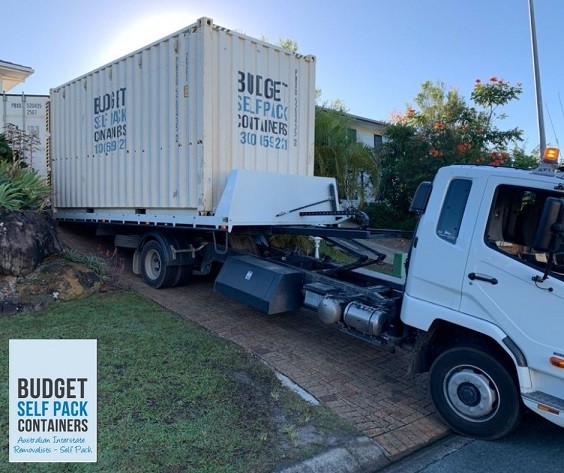 A lot of the fear of committing to undertaking a self-pack shipping container move comes down to people being unsure about HOW to pack a container correctly.
It can be daunting if you've never set eyes on a shipping container close up and suddenly you're considering having one dropped at your address to be loaded with your entire household contents!
Hopefully, we can alleviate some of your worries with our definitive guide on how to pack your shipping container for interstate transport.
As with many things in life, it ultimately comes down to common sense. The container will travel by truck between your address and the rail terminal at each end of the move and then by rail for the main part of the transit.
Container removals utilise both trucks and the rail network for transportation
Tilt tray trucks are our preferred method of uplift and delivery - these trucks have a sliding tray with gently lowers your container with a winch on and off the ground at an angle. During this container movement, you do not want your container contents sliding around which could happen if not secured correctly.
You can view a tilt tray truck unloading a 20ft shipping container here
During the rail portion of the transit, although your container is level, it will be in constant movement for up to a week, depending on where you are moving to and from. Although it's a minimal movement, it is constant so you need to ensure that your furniture inside does not have the opportunity to shift about and come into contact with other items of furniture which could cause scuffing marks.
How to pack a shipping container with furniture
It is important that you have the correct equipment to load your moving container correctly. The most important items that you will require are
✓ Heavy-duty furniture blankets to wrap your furniture with
Blankets and padding are essential items when you are loading your container.
Every item of furniture you load needs to be protected from moving up against other items of furniture.
✓ Rope/Straps to tie items to the rails inside the walls of the container
Ensure that you have plenty of ropes and tie-down straps to secure the container contents
Again, these are absolutely crucial to ensure the container contents stay secure during transit
✓ A furniture trolley to place items in place inside the container.
Although it's not essential, a furniture trolley is certainly helpful to move large/bulky items into the container.
Budget Self Pack Containers provides all of these items free of charge with our moving containers for most locations in Australia.
Other items that are useful are packing plastic wrap rolls, bubble wrap for fragile items, tie-down straps for heavier, large items and sturdy boxes for packing smaller items into.
These items are all readily available at specialist packaging suppliers or at most hardware stores.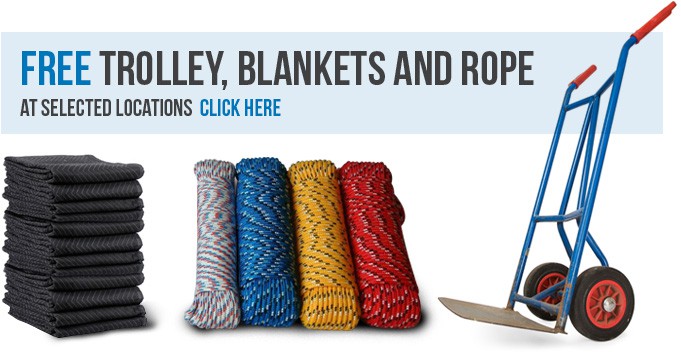 Utilise the full height of the shipping container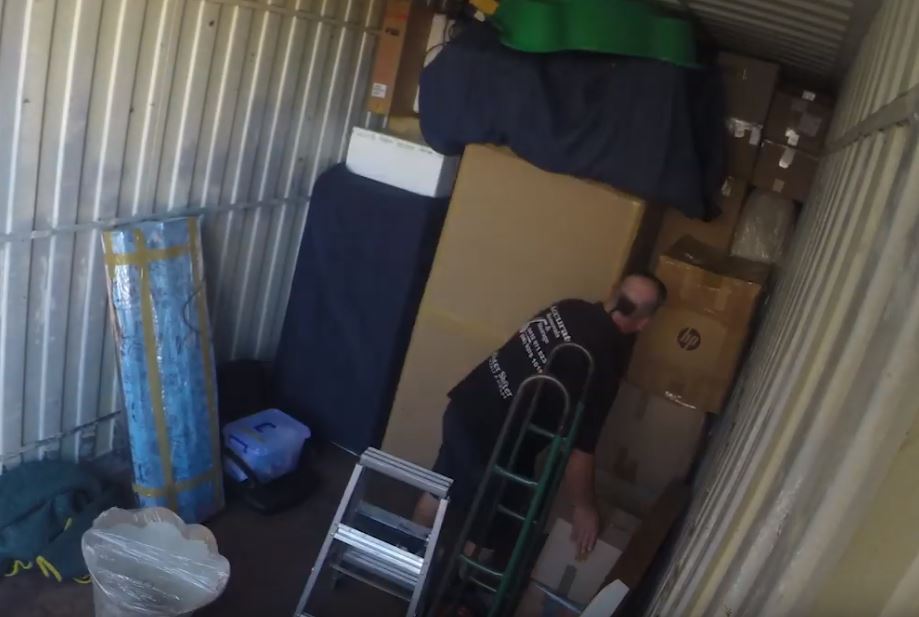 For interstate furniture removals, we use 20ft high cube shipping containers. These are slightly higher than traditional general-purpose containers. The internal height of the container is 2.7 metres which is why they are our preferred choice for furniture removals. The trick is to utilise this added height by remembering to pack upwards all the way to the top where possible. You can see in the image above that nearly all of the available space is being used by loading smaller items on top of larger ones. Filling in gaps with soft items such as duffel bags, clothing, linen etc. is a good way to ensure that the load stays secure. Use the highest tie rails in the container to rope off these items that are stacked high so they stay put during transit.
Securing furniture to the walls of a shipping container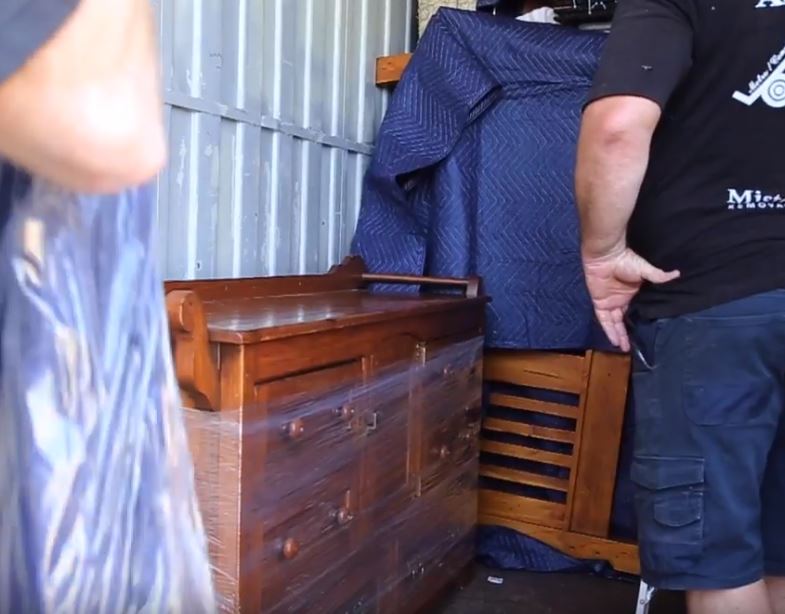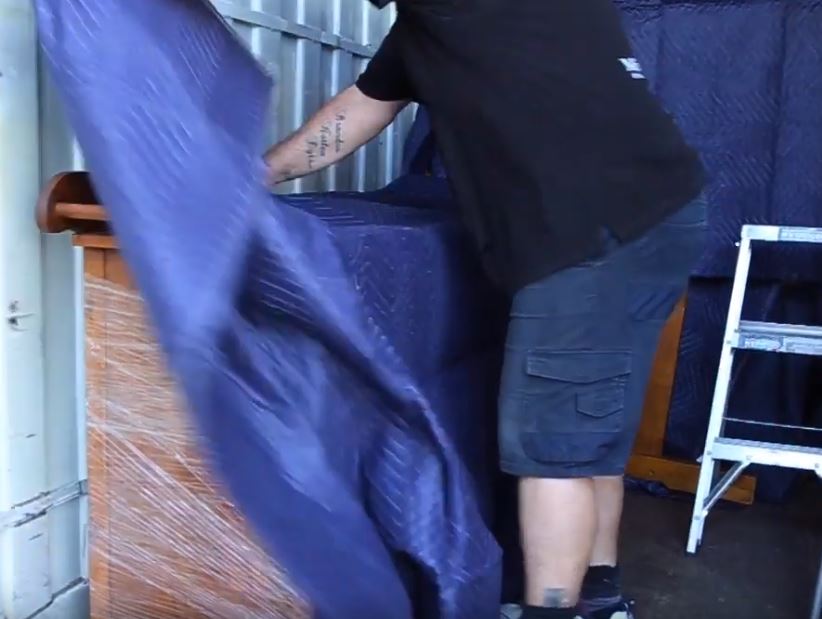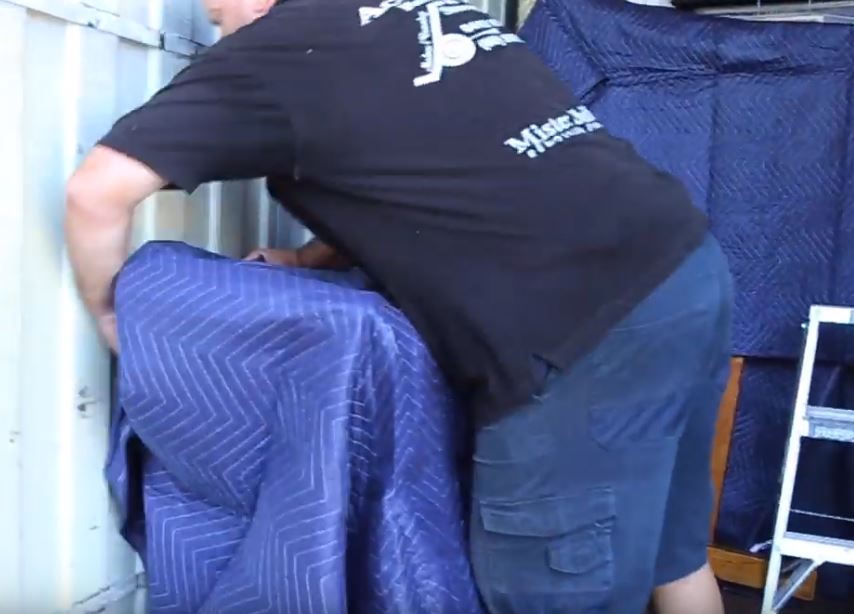 To keep your furniture secure during transit, it is necessary to tie larger and heavier items of furniture to the tie rails which are located throughout the shipping container. Before you do this, you want to make sure that your item of furniture is sufficiently wrapped and protected. As you can see in the image above, plastic wrap has been used to secure the drawers in place and to prevent them from sliding out. Don't forget, you can utilise the space within the drawers to pack smaller items such as clothing. In this instance, the dresser is wrapped with plastic wrap and then a large furniture blanket is placed over the entire set of drawers, folded around the back and then secured in place with rope. This piece of furniture is now safe from scuffing or bumps from other items of furniture as well as being secure for when the container is uplifted and during transit.
Loading your car in a shipping container
When loading a moving container with both a vehicle and well as furniture you want to be extra sure that you are not going to have the contents of your container moving around which could cause damage to both the car and the furniture.
Begin by marking out a "footprint" that the car will make inside the container, so you know how much space you have around it for loading your furniture. You can see instructions on how to secure a car in a shipping container here. It is important that you use high-quality tie-down straps with a sufficient lashing capacity to secure your car to the container walls. The average small to medium car weighs anywhere from 1 - 2 tonne so you want to make sure the straps you choose can handle the weight of your vehicle.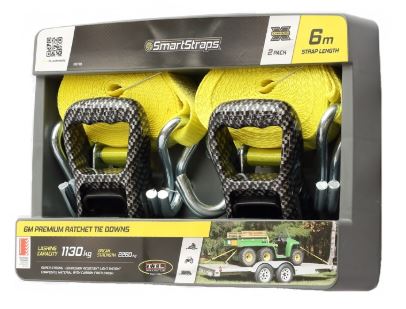 Once you have a plan of where your vehicle will be secured in the container, you can either load and secure the vehicle first and then load the furniture around it or you may find it easier to load the rear of the container with furniture and then the car and then finally fill in the gaps left with additional household items. Don't forget that you can load the car with items as well, so long as the driver's seat is kept clear to drive the car in and out of the container.
Tips to remember when loading your car in a shipping container
✓ Load the car into the container with a minimal amount of fuel in the tank.
(Flammable liquids are not safe in a shipping container and the smell of the fuel evaporating during transit will permeate the rest of the container contents)
✓ Secure the car in the container by placing wood chocks in front of and behind the wheels.
✓ Secure each wheel with its own tie-down strap to the heavy tie-off points located at the base of the container
✓ Remove the aerial, side mirrors and anything dismountable from the exterior of the vehicle.
✓ Use the space inside the car to load additional items.
✓ If you are moving to WA or TAS there are Quarantine restrictions in place, vehicles are commonly inspected.
(It is a good idea to load the car closest to the doors of the container as it may need to be removed for inspection.)
Loading your bed and mattress in a shipping container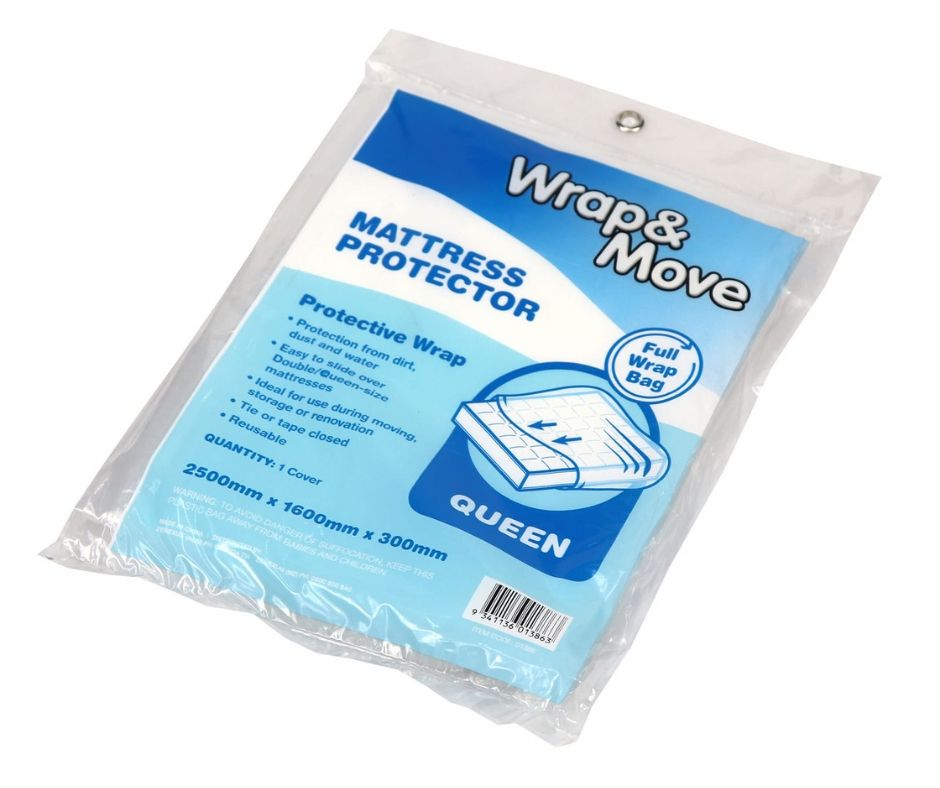 Bed frames, bases and mattresses are best secured to the outside walls of your moving container. We recommend you dismantle your bed frame to save on space. Bed bases and mattresses are best loaded in an upright vertical position against the container wall. Protect your mattress by first placing it into a disposable mattress protector - readily available for a few dollars from Bunnings. It can then be covered with a furniture blanket and easily secured to the tie rails. If you are loading multiple mattresses, the space in between two mattresses is a great spot to put your flat-screen television or any large framed artworks or mirrors.
Container Loading Tips
✓ Load the heaviest and largest items of furniture around the outside container walls first, tying them securely to the tie rails.
✓ Distribute weight evenly throughout the container - do not create a heavy end or side as it can cause instability when loading/unloading from the truck.
✓ Pack your linen/doonas/towels/cushions/pillows into heavy-duty plastic bags and then utilise these for padding between furniture and to fill in gaps.
✓ Pack the container as tightly as possible to minimise movement of the contents during transit.
✓ Do not pack high stacks of cardboard boxes. The weight of those on top can cause the bottom ones to collapse. It is better to load an even layer of boxes if possible.
✓ Do not load liquids into a container unless they are fully sealed and contained.
✓ If your container is going to placed on blocks, hire a ramp from a local hire shop to allow you to get the trolley easily in and out of the container.
✓ If you are moving to or from a tropical climate such as far north QLD or planning to store your container for an extended period, place some moisture-absorbing packs in the container to assist with condensation buildup.