By Clive Smith
3 months ago
Moving Shop Fittings Interstate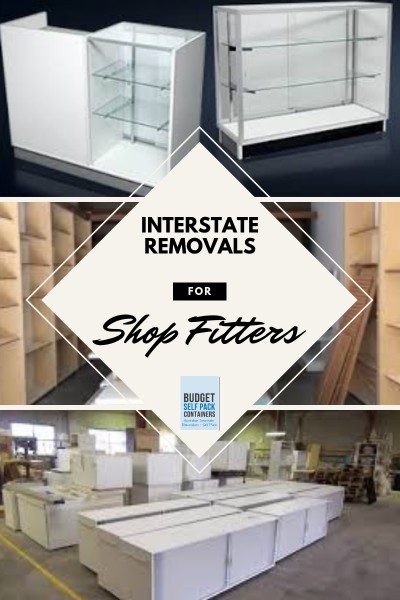 Shop Fittings and Stock Relocation
Shopfitting companies are often moving large amounts of shop fitting equipment and/or stock around the country. Container removals or self-pack containers are a great option for shopfitters as they offer a flexible, cheap and reliable way to move your shop fittings safely and with ease.
With self-pack removals, you have the autonomy to be in control of how, when and where your shop fittings get loaded and packed ready for transportation.
How your shop fittings are moved interstate
We deliver a 20ft or 40ft moving container to your warehouse or business address at a time decided by you.

You load the container with your shop fittings/stock. You can do this in a few hours or a few weeks - you get 40 days included to split between loading/unloading the container.

When you have finished loading, you padlock the container and return, pick up the container and transport it to your desired location

You unload the container at your own pace. When it is empty we return and pick it up again. Easy!
It really is that simple.
Frequently, shopfitters that use our services regularly, will use the container for a return trip which can reduce the cost further in some cases.
How much does it cost to move shop fittings interstate?
For an accurate quote, the quickest and easiest way to price up your container move is to complete our online quote request form found on our website.
You can also call our friendly removals team who can in most cases, provide a price over the phone and answer any questions you may have about the service.
Includes:
✓ Door-to-door delivery of a 20ft container
✓ Packaging materials if required
✓ 40 days hire of the moving container to split between loading and unloading
✓ Transit Insurance
✓ GST
Franchise Shop Fittings
For franchise operations throughout Australia, container removals offer a great way to move stock and fittings between franchise outlets and warehouses. We can have an empty 20ft removalist spec moving container out to your business in as little as two days and transport it from Perth to Melbourne in 5 days, or from Brisbane to Perth in 7 days. We take care of all the logistics so you can focus on making sure that your stock and fittings are taken care of by you and your employees. With you in charge, there is no rough handling or cutting corners - the beauty of self-pack removals is that you know the job is done well because you're in charge!
Commercial Moving Quotes
If you require a moving quote for your business or franchise operation, give our office a call on 1300 659 221. We can prepare a customised obligation free quote for you in 24 hours or less. Alternatively, fill in the quote form on our website and we'll get back to you as soon as we can.