By Sheree Jones
4 months ago
Using Plastic Storage Bins When Moving House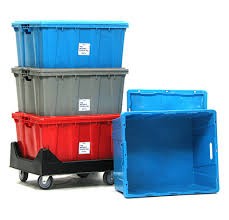 ** Please note, Budget Self Pack Containers is unable to provide plastic moving crates for your move. If you need plastic moving crates, please see the links below for suppliers in your location **
Plastic Moving Crates for a Self Pack Move
When moving locally or interstate there are many options on the type of packaging you use. With long-distance moving using a self-pack moving container (a specially modified removalist-spec shipping container), you need to make sure you use high quality, sturdy and robust packaging items that can withstand the rigours of a long-distance move utilising various modes of transport; ie. tilt-tray or side-loading trucks and rail.
Traditionally cardboard boxes are used for this purpose as they are relatively cheap and readily available. We always recommend you use a good quality cardboard box that can withstand the weight that is packed inside it without buckling or collapsing.
Cardboard Boxes vs Plastic Moving Crates
Cardboard boxes are not perfect though. There are a few problems associated with their use.
They are not waterproof - not usually a problem however if liquid contained in a box spills during transit, it can damage multiple boxes as it soaks through. It can also cause the boxes to soften and collapse.

They have to be disposed of at the end of your move - although recyclable if taken to the correct recycling facility, they are nonetheless a single-use item therefore not the most eco-friendly or convenient to dispose of.

There is a limit to how high multiple cardboard boxes can be stacked before the weight pressure is too much for the lower boxes. This means you need to spread cardboard boxes over a larger area which is not always convenient or the best use of limited transport space.
Advantages Of Using Plastic Moving Crates When Moving House
An alternative to using cardboard boxes when moving house is to use plastic moving crates. These have a few advantages over cardboard boxes particularly when you have a larger number of items to move (ie. your entire household contents). Plastic crates are much stronger than cardboard boxes so can hold heavier loads. Some other advantages are:
They are stackable - depending on the type of crate, usually, you can easily stack them at least 4 crates high.

They come assembled. No more taping together cardboard boxes (and hoping the tape doesn't come off during transit).

They have handles and are often come with a platform trolley for moving them around.

They are watertight and leak-resistant - should liquid spill within a crate, it will be contained within just that one crate.

Although made of plastic, they are a more environmentally friendly option as they can be reused indefinitely whereas cardboard boxes have a very short period of use before they need to be recycled.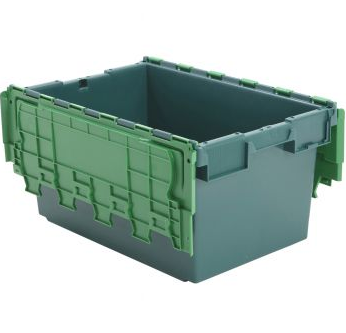 Where to find plastic moving crates?
There are businesses which hire out plastic crates all over Australia. Check your city below for a link to your nearest supplier.
Perth:
Sydney:
Brisbane:
Adelaide:
Melbourne:
Using Plastic Moving Crates With Your Self Pack Shipping Container
When you move interstate using a Budget Self Pack Containers shipping container, plastic moving crates are a great addition to the packaging we already supply free of charge for most of our customers moving Australia-wide. Along with a furniture trolley, furniture blankets and rope, if you utilise plastic crates you will find it even easier to pack and load a moving container. For a low cost, stress and hassle free move, contact us today for your obligation free moving quote on 1300 659 221 or fill in our quote form and we'll get back to you with a quote for your interstate or long distance move as soon as we can.