By Clive Smith
3 months ago
Can I Put A Shipping Container On My Property?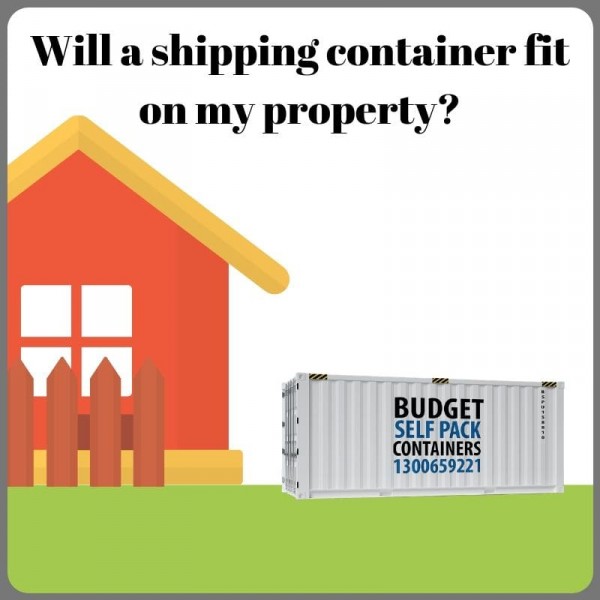 Are self-pack removals right for me?
One of the cheapest ways to move furniture interstate is by using a self-pack removalist. In this system of moving house, a shipping container (with modifications for home removals) is delivered to your house where you load it with your household contents, it is then picked up again and transported to your new home by self-pack interstate removalists.
This is a great way to relocate your home contents when you're working on a budget. By taking on the job of packing your own furniture you can save up to 50% of the price that a full-service removalist would charge! We can give you tips and advice on how to load your own shipping container and will provide packaging materials to assist you in most location throughout Australia.
Where will a shipping container go on my property?
When you confirm your order to move this way, where possible we will obtain both your origin and destination street addresses and view them on google maps. With street view imaging we are able to see your property ourselves which assists us in assessing if there is room to have a container delivered to your property on a tilt tray truck (the default and most common method of transportation).
You can view a video here that shows how a tilt tray truck unloads a container from its tray to the ground.
The shipping container needs to be placed on a level (or near to level) surface. Slight differences in ground unevenness can be counteracted using small blocks of wood under the corners of the container to make it level. Even if the ground is not uneven it can be a good idea to use the blocks of wood as a buffer between the ground and the container as scuffing can on the odd occasion sometimes occur when the container is placed down and picked up.
Other common materials you may have on hand that can be used for levelling your shipping container are bricks, heavy-duty paving slabs or railway sleepers.
One thing to remember is that when you are attempting to level a container, you will need multiple thicknesses of whatever you are using. If you put 4 blocks of the same thickness under each of the corners of the container - it will still be unlevel. You need to be able to prop up each corner to a sufficient height to create an overall level surface for the container.
Bunnings or a similar hardware store or timber supplier will often have offcuts of wood available for free or very little cost which would be suitable for this purpose.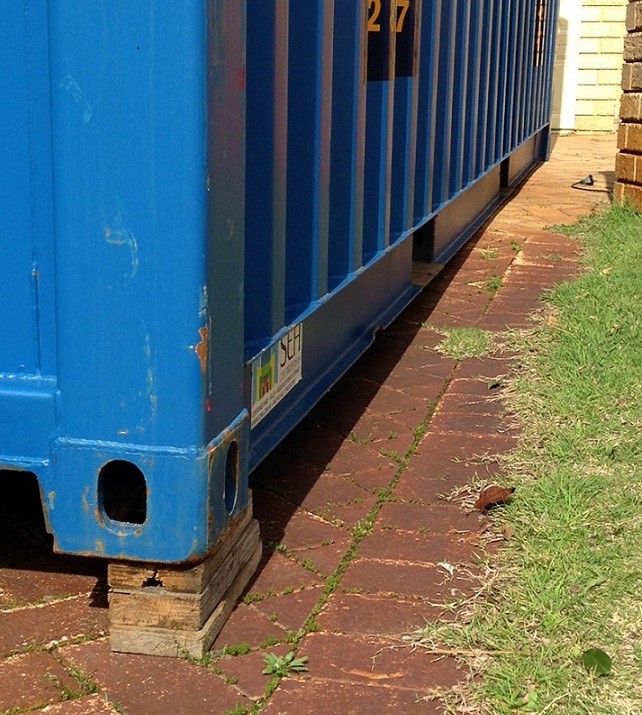 One of the most important factors that we'll be looking for is that there is sufficient access for the truck to manoeuvre when loading and unloading the container. As a rule of thumb, we generally say that a tilt tray truck requires 20 metres (in a straight line) available to be able to back in and unload the container.
You can see in this video of a shipping container being unloaded at a property that the truck drives out from underneath the container when placing it down.
Another thing to consider is the height clearance required. When a shipping container is on the back of the truck it is around 4.5 metres high. Things to watch for that may hinder the truck heightwise are tree branches and low hanging overhead cables. In older houses, a power cable often runs from the street side to the roof of the house and this can sometimes be an issue.
Clearance requirements for a tilt tray truck placing a container at your property:
✓ 20 Metres in a straight line from where the container is placed down
✓ 4.5 Metres of height clearance
✓ 3 Metres of width clearance
How big is a shipping container?
The dimensions of our removalist shipping containers are as follows:
20ft High Cube Container (the most common moving container we use):
Length: 6.1 metres

Width: 2.4 metres

Height: 2.9 metres

Capacity: 38m3
40ft Container (usually used for commercial moves)
Length: 11.9 metres

Width: 2.35 metres

Height: 2.7 metres

Capacity 76m3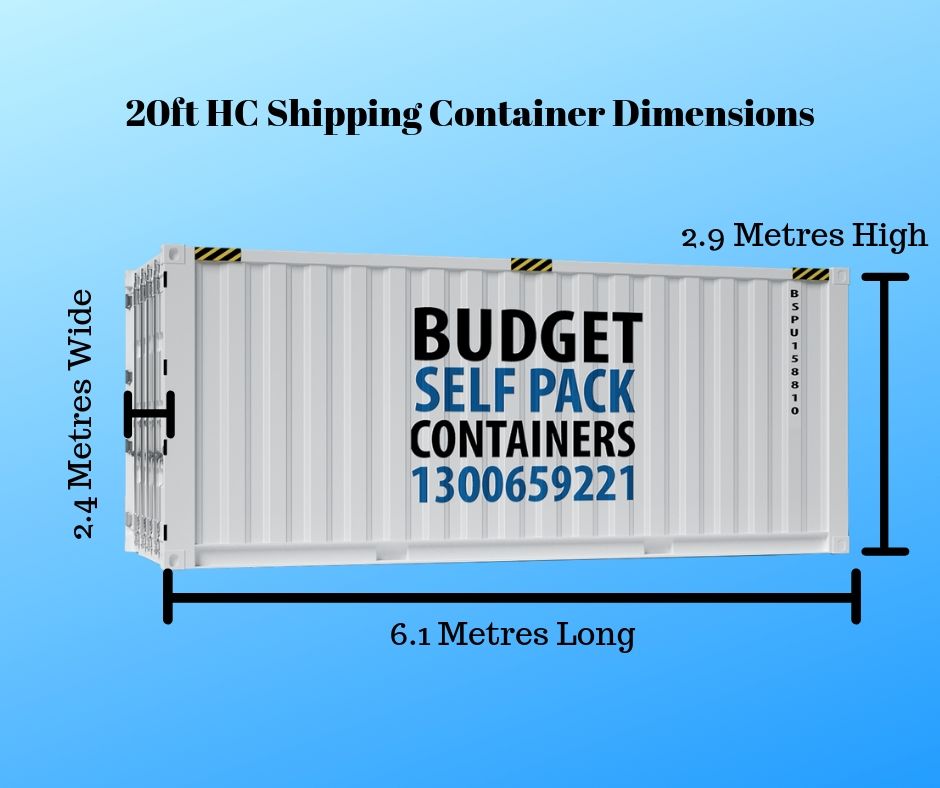 Can a shipping container be put on the road outside my property?
In some instances, yes. If you do not have a suitable place to put the container on your property it can sometimes be put on a grass verge or in a parking bay outside your house. You do need to obtain permission from your local council to do this. They will assess if there are any issues having the container there and let you know how long it can stay there.
To apply for a council permit you will require a copy of our public liability insurance certificate which we are happy to provide for this purpose.
For contact details of your local council, click here.
How long do I have to load my shipping container for moving?
We include 40 days of container hire in most of our quotes which you can split between loading your container and unloading it at the other end of your move. Many people don't require that much time and some people require more. If you need to go over the forty days we will charge a minimal additional container hire fee. If your container is placed on a public space with a council permit, the permit will specify how long it may remain there.
I don't have space for a shipping container at my address. What are my options?
Depot Load/Unload
One popular option for people who don't have sufficient space at their home address is to load or unload the shipping container at one of our depots located throughout Australia.
We can offer this option in Perth, Bunbury, Adelaide, Melbourne, Brisbane, Townsville, Darwin and Burnie.
Live/Rapid Unload
Another option available (for the unload end of your move) is to do a 'live unload' or 'rapid unload'. In this case, the truck will wait onsite for up to 2 hours while you unload the container. The container will be put on the ground (where possible) for ease of unloading - although additional costs apply, it may be that you would pay fees for a council permit anyway, therefore it can be both a cheaper and an easier option.
Brisbane container removals with labour to assist loading/unloading
In the greater Brisbane area, we can offer the option to deliver an empty container with removalists to assist you in loading the container while the truck waits onsite. This is a great option if you're after a quick turnaround as the container will be on its way to its destination the same day (once loading is complete).
We can also offer this option if Brisbane is your destination - when you're loaded container is delivered, we can send our unload team to assist you in unloading the container while the truck waits onsite - this will generally take between 60-90 minutes. In both instances, additional fees will apply.


For a free instant quote or to speak to one of our experienced removals team, call 1300 659 221 during business hours. Or check out our website, with loads of information on self-pack removals, moving house and packing tips. You can also get an obligation free quote here.