By Clive Smith
3 months ago
How much can I fit in a 20ft shipping container?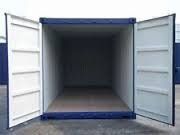 It is the most common question we are asked on an almost daily basis; 'How much can I fit in one of your 20ft moving containers". It's a tricky question to answer as there are so many variables to take into account. Our usual reply is that you should be able to comfortably fit the contents of a 3-4 bedroom house inside a 20ft high-cube container (our standard size). In today's post we delve a little more into the exact dimensions of one of our moving containers and give you some packing tips to maximise the space you use when loading the container with your household contents.
Moving container dimensions
The containers we use are modified specifically for use in the removalists industry. There are heavy lugs at floor and ceiling level for securing a vehicle or other heavy object. There are also tie rails throughout the container as well as a heat / condensation vent to ensure adequate ventilation once the container is loaded and closed.
The internal capacity of a 20ft high cube container is 38m3.



The length of the container is 5.95 metres.

The width of the container is 2.35 metres.

The height of the container is 2.75 metres.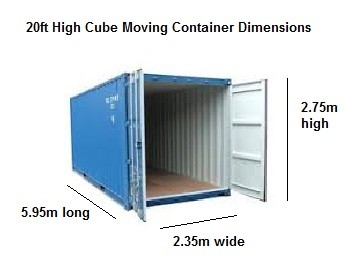 BSPC includes a total weight allowance of 8 tonne for your moving container and contents (this includes the weight of the container itself which is 2.2 tonne). Most of our customers end up with loaded containers weighing somewhere between 5-7 tonne. It is worth considering the distribution of weight within your moving container when you are packing - you do not want to have a 'heavy' end as it will affect the stability of the container, especially when it is being loaded/unloaded from a tilt tray truck.
Another word of advice we always give our customers is to consider loading your moving container as a game of tetris. Rather than just loading things in randomly as they are packed, take some time to consider HOW all of your belongings (particularly the larger items) are going to fit in the moving container and in what order. IT's a good idea to pack large and heavy furniture items around the back and sides of the container so they can be secured directly to the walls of the container. Remember that what goes in first is last to be unpacked so it's useful to keep essential items as one of the last things packed. When you have tied in large or oddly shaped pieces of furniture in the container, don't forget to utilise any dead space that they create by filling cavaties - such as between chair legs - with smaller items. The more that you fill all of these odd little spaces, the more secure your container load will be with less chance of movement. (Don't attempt to fill these spaces until the large items are packed in the container. Filling drawers, book shelves etc. before loading will make your furniture too heavy and unsafe to move).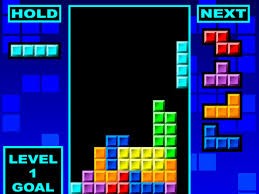 What are the dimensions of my furniture?
Again, this is a tricky one, furniture comes in all shapes and sizes so it's hard to give an exact cubic meterage for each item. It's easier to imagine that if all of your furniture was packed well together that the resulting amount of cubic metres used would be the sum of all the individual parts. Here are some average sizes of common pieces of furniture:
| | |
| --- | --- |
| King Size Bed | 1.7m3 |
| Single Size Bed | .85m3 |
| 3 Seater Couch | 1.25m3 |
| Dining Room Table | 1.4m3 |
| Dining Room Chairs | .2m3 |
| Bookcase | .6m3 |
| Large Screen TV | .5m3 |
| Coffee Table | .3m3 |
| Fridge | .5m3 |
| Piano | 2m3 |
| | |
| --- | --- |
| Outdoor BBQ | 1m3 |
| Outdoor Table & Chairs | 2m3 |
| 4 Medium Sized Tea Chest Boxes | .5m3 |
| Washing Machine | .4m3 |
What if I run out of space in my moving container?
If you are midway through packing your shipping container to move interstate and realise that you are just not going to be able to fit all of your belongings in one container - there are a few options available to you. Have a look at what you've packed - and at what you still have to pack. Is there anything that is not worth the cost of transporting? Some common items that can take up a lot of space are outdoor furniture settings, large children's toys such as cubby houses and play gyms, flat pack furniture (that is not disassembled). Dismantling furniture saves a lot of space and if you are able to sell easily replaceable items it may be cheaper in the long run.
If you've packed as well as you can and are still struggling to fit everything in a 20ft container your next best option may be to have a 2nd moving container delivered. If you are worried that you won't fill a second container to capacity, what a lot of people end up doing is packing their car in one of the containers. Transporting your car (or motorbike) in a container saves your vehicle from a lot of wear and tear it would receive travelling the standard way - on a roadtrain or by on an open rail car. Securing you car in the container is simple - check out our Interstate Car Transport page here or if you are after advice packing motorcycles, check out some tips here.
Container loading - do's & don'ts
DO
Have a plan when loading your container

Take care packing your furniture - it needs protection inside the container

Tie everything in place inside the container to prevent movement during transit
DON'T
Think that playing tetris is removalist training (reading our blog to get packing tips is much more useful!)

Load all the heavy things in one end of the container

Make boxes too heavy - they are dangerous to lift and risk breaking the box itself

Forgot to padlock your container when it is loaded and ready for transit
Image Sources
Tetris image sourced here