Back-loading Specials and Discounts
Often we experience a container imbalance in our container stock throughout Australia. From time-to-time, a build-up of container stock in a location will force us to dramatically lower our prices to get these containers moving onto locations where they are needed. If you are lucky enough to be moving from a location with an oversupply of shipping containers then you may be offered a substantial moving price discount
Check your location below to see if you are able to take advantage of this limited time offer.
Please note: the discounts offered do come with some restrictions on timing and the packaging materials provided with the container may differ from what is usually supplied.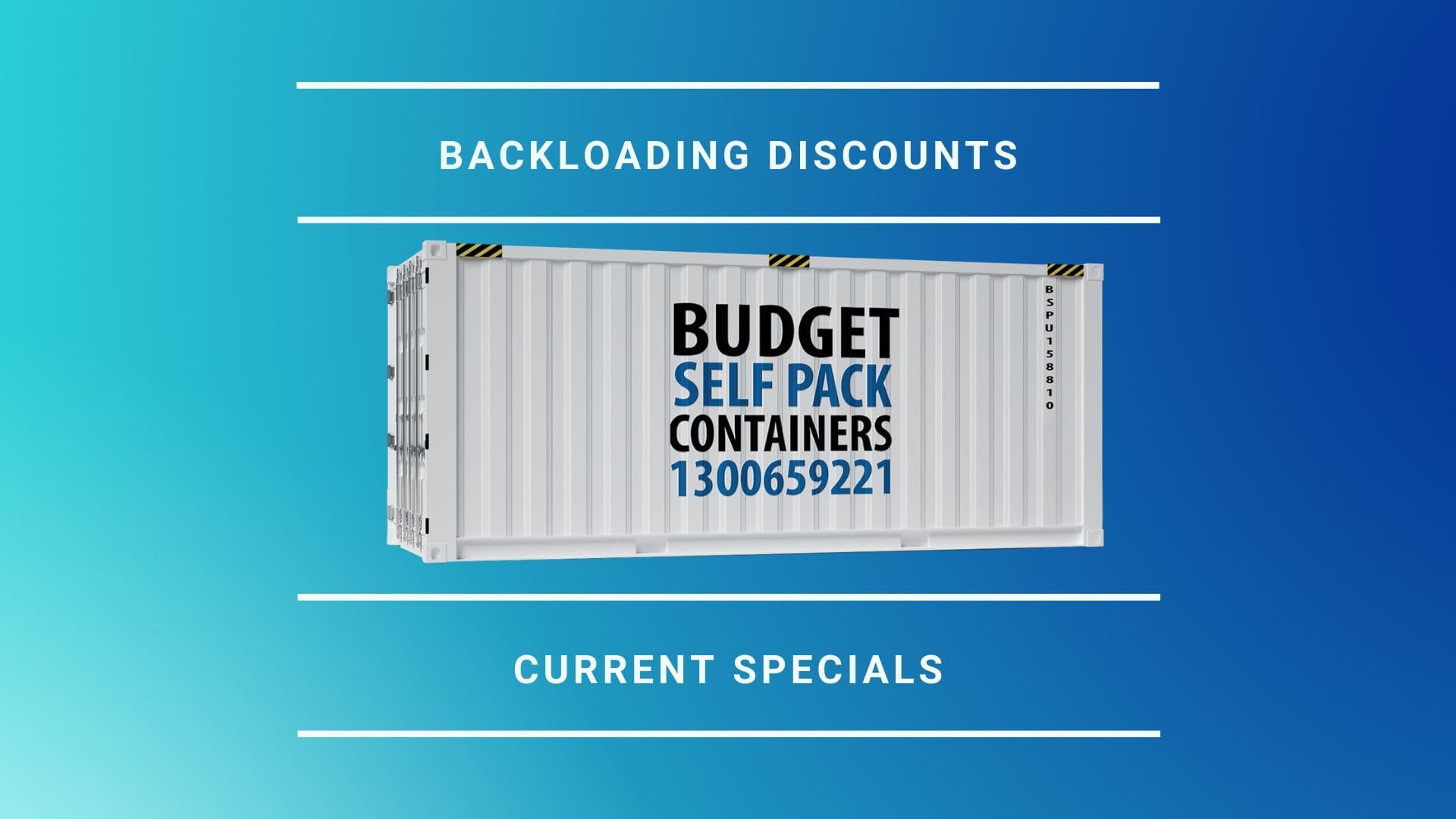 Australia-wide discounted moving prices
Please note - although we will be updating this page as often as we can with current specials, do bear in mind that the prices here are correct at the time of publication but may be subject to change due to container availability. We have limited stock of excess containers to move so and the discounts offered are limited to a certain number only. To ensure you are getting the most up-to-date quote, please call us direct on 1300 659 221 for an instant quote for your interstate move.
Shipping Container Cheap Moving Prices
Update 18/12/2020
The end of 2020 has seen a sharp increase in the demand for moving containers Australia-wide. This is possibly due to a number of factors but primarily we believe that many people delayed moving interstate during 2020 due to the restrictions in place during most of the year because of the Covid pandemic.
Currently, we do not have an oversupply of containers in any of our main locations but we expect this to change in the new year.
We expect to be able to offer some container backloading specials out of Brisbane, Burnie, Hobart and Darwin. Check back with us in the New Year to see if your moving location is discounted.
How Much Does It Cost To Move Interstate
Interstate Moving Price Guide
The prices below are a guide to what you can expect to pay for an interstate move using a 20ft HC removalist spec shipping container and include door-to-door delivery, 40 days total container hire, transit insurance and GST.
✓ Move from Perth to Melbourne - $2,200 to $3,200
✓ Move from Perth to Brisbane - $3,200 to $4,200
✓ Move from Burnie to Melbourne - $3,000 to $4,000
✓ Move from Burnie to Cairns - $6,500 to $7,500
✓ Move from Brisbane to Melbourne - $1,800 to $2,800
✓ Move from Brisbane to Sydney - $2,200 to $3,200
✓ Move from Sydney to Melbourne - $3,000 to $4,000
✓ Move from Sydney to Brisbane - $3,300 to $4,300