Moving from Perth to Adelaide | CASE STUDY
Recently a customer of ours moved from Perth, WA to Adelaide, SA using two of our 20-foot removalist spec moving containers and we filmed the containers being loaded.
Local removalists in Perth
This customer contacted us from abroad. He had moved overseas from Perth, leaving his possessions stored at a local storage facility located in Malaga, WA.
He intended to move back to Adelaide and wanted to organise to get his home contents transferred from the storage depot in Perth to his new home in Adelaide. Being out of the country, he needed this to happen without him being onsite.
He engaged the services of Budget Self Pack Containers to provide the interstate container removal service and he also brought on board a local removalist company to transfer the contents of his storage crates into shipping containers. Budget Self Pack Containers liaised with the local removalists to ensure a seamless and efficient process.
Loading a shipping container at a storage depot
Budget Self Pack Containers delivered two 20 foot containers onsite to the storage facility in Malaga.
The timing was coordinated with the local removalist company so that the containers were both delivered onsite, loaded with the customers' home contents and then removed from the storage facilities premises within one day.
This facility had his belongings boxed in wooden crates. Once the containers arrived onsite the hired removalists undertook the job of unloading the customer's belongings from the wooden crates and reloading them into the shipping containers.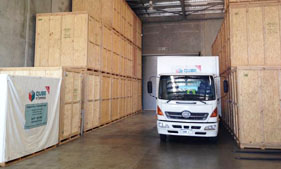 Packaging materials needed to load a shipping container
We provided heavy-duty furniture blankets, a furniture trolley and rope to assist with loading the shipping container. These packing materials are vital to ensure that all of the customer's furniture was protected and secured in place while it was in transit.
Once the removalists had loaded both of the containers, the container doors were closed, locked and ready for transport.
We picked the two shipping containers up using a tilt-tray truck and transported them to the rail terminal in Perth.
(You can see how a tilt tray truck unloads a shipping container here)
Both containers travelled to Adelaide, spending three days in transit and were then picked up by another tilt tray truck from the Adelaide rail terminal and delivered to our customer's new home ready for unloading by our customer at his own pace.
Thanks to Qube Self Storage and to Accurate Removals for assisting with this interstate relocation and for allowing us to film the loading of the containers. We appreciate your assistance in providing a successful outcome for our customer.