By Sheree Jones
3 months ago
Move Interstate Without the Stress!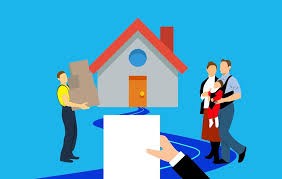 Moving is stressful, that's unavoidable and moving interstate can feel even more stressful than a local move. Although relocating interstate may seem daunting, with a bit of preparation and forethought, it doesn't have to be a hassle.
Procuring some expert advice for your interstate move is a good idea. Although you may not be familiar with the process, there are removalists that organise this sort of thing day in and day out and they are a great place to start if you are sourcing information on the best way to go about this.
So, what's involved, how much are you going to be up for and what's our best advice? Read on.
The easiest way to move furniture interstate
A lot of people assume that when moving house, a truck transports your home contents from point A to point B. In actual fact, the majority of interstate moves will utilise the rail network in Australia. Rail is an efficient and cost-effective way to move interstate because Australia has a good rail network infrastructure between all the main centres.
Moving containers interstate
Shipping containers (known as moving containers or pods) are used to transport everything from furniture to business materials; and vehicles to retail stock. Removalists favour 'high cube' containers which are slightly taller than a traditional 'general purpose' container. These allow extra space for larger items of household furniture. A high-cube container has a capacity of 38 cubic metres. This translates to roughly the amount of space that will fit the furniture of the average 3-bedroom home. If you declutter and sell bulky items like outdoor furniture, second lounge suites and gym equipment, you should even be able to fit the contents of a 4-bedroom home into a container. What can go inside in a shipping container? Virtually anything that you could load into the back of a truck you can load into a shipping container. Obvious exceptions are explosives, high volumes of chemicals and flammable liquids. We also don't recommend transporting a gas bottle in a shipping container - most "swap and go" gas bottle companies will allow you to leave your gas bottle in one state and pick up a new one in another.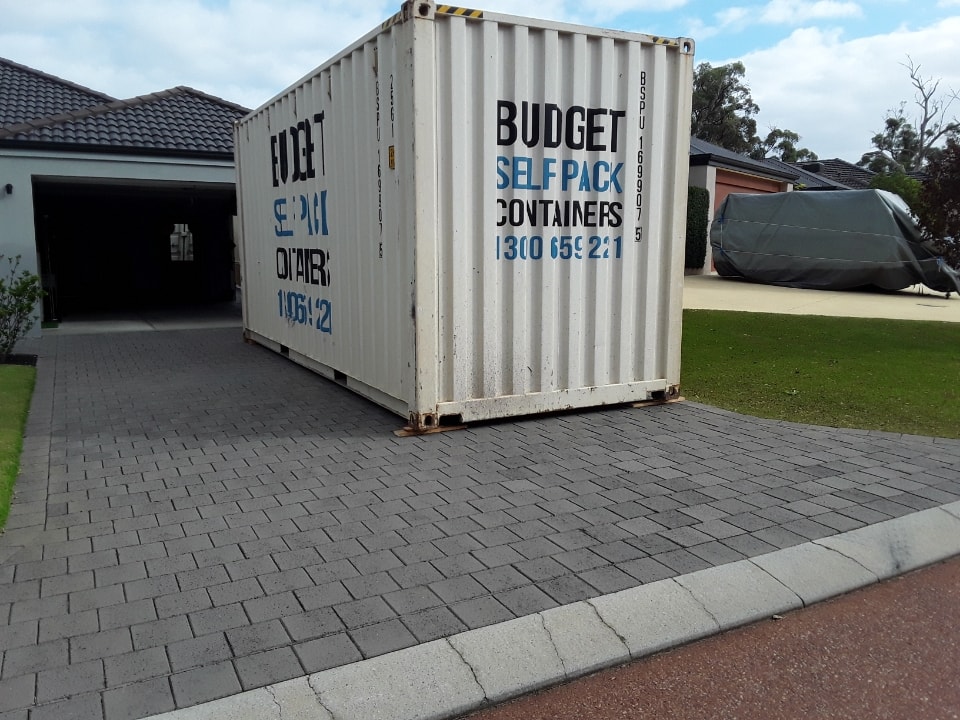 DIY Container Loading/Unloading vs Professionals
Much of the savings you will make when moving with a self-pack shipping container are because you are doing some of the work yourself, e.g. packing your home contents and loading them into the moving container. With a 40-day container hire period, you have plenty of time to go and fast or slowly as you need to when loading up the container. For some people, time or physical imitation may require that professional help is required to load/unload the container. It is still a good idea where possible to do the actual packing yourself - e.g. putting your home contents into boxes. The removalist will be able to assist with lifting and wrapping heavy items of furniture and then can load your already packed boxes and crates into the moving container. With 3 experienced container loaders you can expect the average 20ft shipping container to be loading within around 3-4 hours if everything is packed and ready to go. An unload is much quicker and can be completed in most cases in around an hour or two. If you do get professional help to load or unload your self-pack shipping container you can still expect to pay less overall than using a full-service removalist, even taking into account the additional labour costs.
Is it safe to transport your home contents in a shipping container?
Many people wonder why full-service removalists cost so much more than a self-pack container removalist. Are your home contents going to be safe moving interstate in a shipping container? For many interstate moves, a full-service removalist will utilise a shipping container to transport your goods as well - the difference between the two types of services is that the full-service removalist will generally pack and load the container whereas you are responsible for that yourself with a self-load container.
The major difference in cost between the two services comes down to the additional cost of labour used with a full-service removal. And also they will often charge a lot for comprehensive insurance covering your goods during transit (although you may want to check the fine print on the coverage provided).
Most self-pack removalists will offer transit insurance which covers the container during transit for occurrences such as a train derailment, truck accident or other natural disasters. It doesn't cover any damaged caused by the furniture inside being packed incorrectly - for instance, if a table gets scratched because it was not sufficiently wrapped.
The good news is that it is a simple procedure to load a container correctly requiring basic equipment and mainly a good deal of common sense.
Large items of furniture such as tables, bookshelves and chairs need to adequately protected by wrapping in furniture blankets to prevent any scuff marks which can be caused when two pieces of unwrapped furniture are placed next to each other. The constant slight vibrations caused by the container being in transit via truck/train will cause these to rub together. Soft items and manchester items are great to use as padding or a buffer between solid items of furniture. A good way to view the loading of a container is to think of it as a game of Tetris. The aim is to fill all the gaps that you can to minimise the movement of items in the container as well as ensure you can get as much in as possible.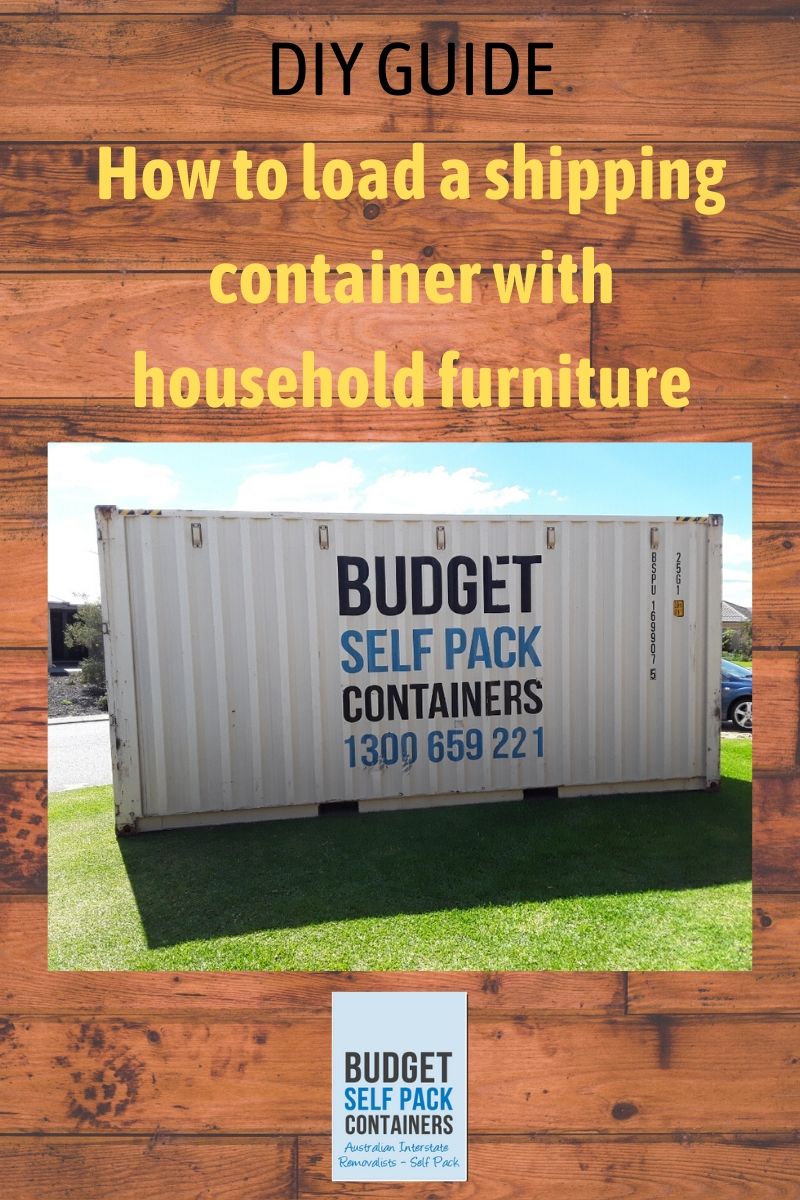 Reduce the stress and hassle when moving interstate
The main thing to remember when you are moving house is to have a plan. The stress comes in when you are unorganised and ill-prepared. It's vital also that you choose an experienced interstate removalist who you have confidence in and your stress levels will be more manageable if you are not paying the earth to do it!
There are plenty of DIY removalists out there who advertise their services but have no real expertise in moving your precious household items safely and securely. Research your removalist and read reviews left by their past customers. Facebook reviews are always a good indicator - if a business has removed their reviews from Facebook then chances are they have had a run of bad reviews. As a business owner is not able to remove poor reviews, many choose to simply disable that feature on Facebook.
Moving apps can be a helpful way of managing your move. They feature helpful checklists and reminders of things you need to do at each step of your move.
For an obligation free quote to move interstate contact us today.