By Sheree Jones
4 months ago
Reducing your carbon footprint when moving house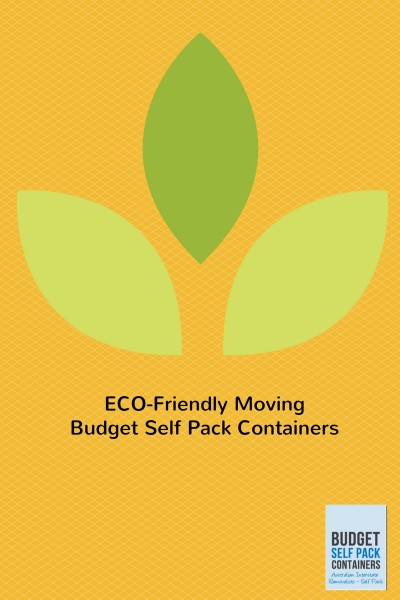 Many people endeavour to make eco-friendly choices in everyday life, such as using keep-cups instead of takeaway coffee cups, limiting the use of single-use plastics and recycling household waste where possible. It makes sense to carry this attitude over into all areas of your life where possible and moving house in no exception. There are definitely ways you can make your interstate move more eco-friendly and the good news is that many of these choices also help you save money - double win!
Eco-friendly way to move house
The process of moving house can be broken down into 3 distinct steps:
Selling / buying your home (or ending / starting a rental lease)

Choosing a removalist, packing your home contents and moving them to your new home

Unpacking your home contents and settling into your new home
All three of these steps can be optimised to reduce your carbon footprint as much as possible during this process. Let's take a closer look at how you can achieve a more eco-friendly move.

Selling / buying a home | Ending / starting a rental home lease
These days there is no need to waste paper on print advertising when you sell your home. Advertising online is easy, effective and saves you money. Cutting out the production of glossy brochures and flyers advertising your house makes perfect sense as a smart and eco-friendly choice saving paper and printing ink. The prevalence of online-only advertising is well on the way to becoming the norm.
Selling your home means you need to get it ready for sale in order to present to the public the best possible version of your house possible making it appealing to a wide and varied audience. Decluttering is an important step at the beginning of the moving process. This is for many reasons -
It is a waste of time, money and will increase your carbon footprint to transport items you no longer use or need to a new home.

To maximise the feeling of space and lightness in any home, it is sensible to minimise the amount of clutter.

The mental benefits of decluttering are widely accepted as enhancing your well-being.

Decluttering by holding a garage sale is a great way to make some extra cash when moving house.
Choosing an eco-friendly removalist
Choosing a trustworthy interstate removalist is not a task many of us relish. If you can eliminate those moving companies who are not so eco-friendly then you've narrowed the search somewhat. A full-service removalist is not the most environmentally conscious choice for a couple of reasons. They will come in and pack everything in your home themselves - this means they will use a LOT of packaging materials including foam beads, bubble wrap and styrofoam. None of these products are good for the environment. The second issue with this type of removalist is that they often will move your home contents in a diesel powered truck interstate - with your household contents being the sole item on board. The carbon footprint from doing this is considerable.
A better and more eco-friendly moving choice is a self pack container removalist. This type of removalists utilises the rail network throughout Australia meaning that your container-load of household contents is on a large cargo train, a much more sustainable mode of transport in terms of CO2 emissions, energy consumption and use of space. The second environmentally positive aspect of container removals is that you pack your home contents and load them yourself. This means you can make smarter, more eco-conscious choices when selecting your packaging materials.
Packing your home contents
The type of packaging materials you use for an environmentally friendly self pack interstate move are important. There are many options out there and packaging solutions for anything you need to pack but some of the best eco-friendly choices you can make are as follows:
Consider using re-usable plastic storage boxes instead of cardboard boxes. There are many benefits of these, that you can read about here. Environmentally speaking, if you can hire or re-use these in your home (ie. as storage boxes in your garage after the move), then they are actually a more eco-friendly choice than a box that is used once only and then (typically after moving) is disposed of immediately.

Limit the use of polystyrene, plastic wraps and foam fillers. Eco-conscious alternatives to these options are to use old rags, towels, clothing to pad out boxes and wrap individual items in boxes. Shred paper in the recycling bin to use as additional padding inside boxes (newsprint is not best for this as the ink can run). Get creative with what you already have in the home when packing fragile items, for instance, pack fragile wine bottles or glasses in your thick socks, use cushions to layer between fragile items inside boxes.

When loading a self pack container, one of the most useful items you can have are furniture blankets for wrapping large items of furniture to prevent scuff marks or rubbing while in transit. Many good quality removalists will provide furniture blankets for your move but you can supplement these with your own blankets, or any older linen such as towels, duvets, pillows. The aim is to stop each individual item of furniture in the container from directly touching anything else without a layer of padding in between, how you achieve this is up to you!

Nearly all packing tape these days is made from plastic which is derived from fossil fuels. This is non-recyclable and will not break down in landfill. Fortunately there is biodegradable plastic tape available, although it costs slightly more, you can be sure that it will break down when it is disposed of. Another alternative is to use paper packing tape.

Unpacking your home contents and settling into your new home.
If you've packed your self load container with the environmentally conscious choices above then you'll find you have very little rubbish to dispose of when unloading your moving container at your new home so you can already feel great that you've made a better choice for the environment and you've also saved yourself a lot of time and hassle without having to get rid of excess packaging materials.
With 40 days* to split between loading and unloading your container you have plenty of time to unload your moving container at the speed you choose which is a lot less stress-inducing than having your entire home contents dumped in your house and unpacked by a couple of removalists who are most likely in a hurry to get the job done. If setting up your new home with intention and attention to detail is more your thing, then self pack containers will be a great fit for you.
Moving house is also a great time to assess your cleaning routines and think about how you can make more eco-friendly choices cleaning your new home. Perhaps you could look into toxic-free cleaning products such as using vinegar, baking soda and essential oils rather than expensive and not always necessary shop bought cleaning products. There are so many better choices available if you want to make a switch to more earth friendly cleaning products. So instead of filling up the cleaning supplies cupboard in your new home with 20 different toxic cleaners, do a little research on converting to a lox tox cleaning routine and discover the benefits it will have on your health, the planet and your wallet!
A quote from an eco-friendly removalist
If you would like to get a quote from a self pack removalist for your interstate or long distance move, click here. Otherwise give us a call on 1300 659 221 and have a chat to our team of removalists about your upcoming move. At Budget Self Pack Containers we pride ourselves on outstanding customer service and taking the stress and hassle out of your eco-friendly move.
* 40 days offered by BSPC (included in quoted price). Additional container hire rates apply - $40 p/w after 40 days